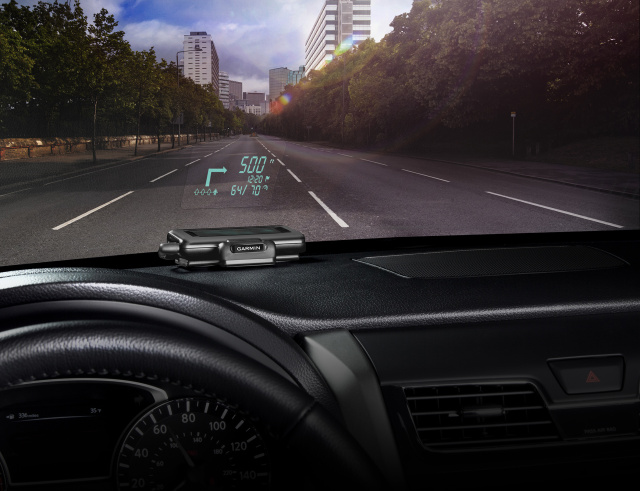 Garmin have just introduced an innovative way to display gps directions in you car via a head-up display for smartphone navigation apps. The new tech is coined HUD (Heads Up Display). It will sit on your dash and project a simple set of basic navigation data onto a transparent film affixed to your windshield.

HUD redefines the navigation experience by allowing drivers to find their way without taking their eyes off the road," said Dan Bartel, Garmin vice president of worldwide sales. "Head-up displays currently have their place in select high-end cars, but HUD makes this technology available as an aftermarket accessory for any vehicle, at an affordable price.

HUD offers more navigation details than other portable head-up displays, yet presents them in a simplified way that doesn't divert the driver's attention from the road. The directions are easy to follow and allow drivers to navigate even the most challenging interchanges and traffic situations with ease. HUD displays turn arrows, distance to the next turn, current speed and speed limit, as well as estimated time of arrival. It even lets drivers know what lane to be in for the next maneuver and alerts them when they exceed the speed limit2. HUD also warns users of potential traffic delays and upcoming safety camera locations. The crisp display automatically adjusts the brightness level so projections are clearly visible in direct sunlight or at night.
Garmin's Heads Up Display (HUD) - Really cool new product

,