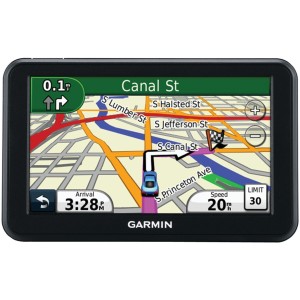 Description
The new widescreen Garmin nuvi 52LM 5-Inch Portable Car GPS with Lifetime Maps
is an easy to use thin profile gps system that comes with some useful features like Lane assist with junction view displays, where junctions and interchanges with colored arrows that indicate the proper lane needed for your next turn or exit.
. In addition, this portable GPS announces streets by name, guides you to the proper lane for navigation, offers pedestrian navigation options and comes with a sturdy suction cup mount for easy adjustment and quick release.
Why its good
Form factor – Designed well
Performance – Good accuracy and fast satellite acquisition time
Free lifetime maps and traffic
Con's
Bottom Line – Who is this best for
For those of you who are interested in a good, reliable gps system, then look no further than the Garmin Nuvi 52LM

. It is very easy to use, screen is very clear even in bright sunlight and lifetime maps and traffic are really a good deal
Best Price
What you get in the box
Garmin Nuvi 52LM
Preloaded City Navigator NT North America (U.S and Canada)
Lifetime Maps and Traffic; FM Traffic Receiver With Vehicle Power Cable
Vehicle Suction Cup Mount
USB Cable & Dashboard Disc
Quick Start Manual
Video

Do you have any questions about this system? If you do post a comment below and we will respond.