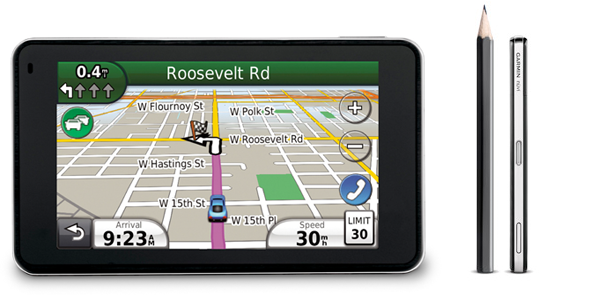 Description
The Garmin Nuvi 3490LMT
is part of the new gps navigation line from Garmin for 2012. It is a premium product that comes with the most advanced mapping and navigation features found in gps units today. They come in a very small and thin form factor that is less than 9mm which is about the thickness of a pencil.
The new Garmin Nuvi 3490LMT
comes with the new garmin guidance 3.0 advanced navigation engine which includes features like predictive routing and advanced traffic avoidance features to make your daily driving simple. You also get cool looking 3D traffic with is updated about every 30 sec.
Garmin have also added an innovative speech recognition engine to these new gps units allowing you to control the machine either by touching it or by voice which allows you to keep both your hands on the steering wheel.
Why its good
Form factor – Easy to carry and as thin as a pencile
Advanced navigation and traffic features
Performance – Good accuracy and fast satellite acquisition time
Free lifetime traffic
Loaded with useful features
Con's
User Comments
We are waiting to hear from the first owners of this units and will post their comments here in the future …
Bottom Line – Who is this best for
This is a gps system that is loaded with useful features, if you are looking for a high end gps systemt that has all the bells and whistles then look no further than the Garmin Nuvi 3490LMT
, you will not be disappointed.
Best Price
What you get in the box
Garmin Nuvi 3490LMT
Preloaded City Navigator NT North America (U.S, Mexico and Canada)
Lifetime Maps and Traffic; FM Traffic Receiver With Vehicle Power Cable
Digital 3D traffic receiver with vehicle power cable
Vehicle Suction Cup Mount
USB Cable & Dashboard Disc
Quick Start Manual
Video
Do you have any questions about this system? If you do post a comment below and we will respond.