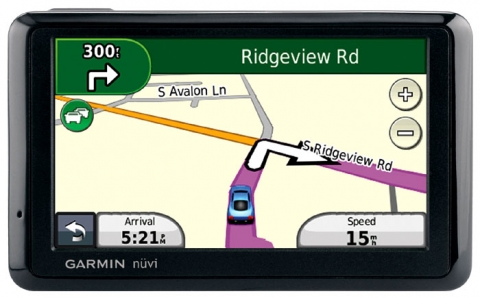 Description
The Garmin Nuvi 1370/1370T
comes with many useful features including a widescreen ultra-slim GPS design with 4.3-inch touchscreen display including bluetooth wireless technology enables hands-free calling with a compatible phone; included traffic receiver provides North America traffic information. Garmin Nuvi's are easy to use right out of the box, you don't even need to read the instructions.
Why its good
Form factor – Easy to carry and thin
Price – Good value
Performance – Good accuracy and fast satellite acquisition time
Free lifetime traffic
Loaded with useful features
Con's
Advertisements in free traffic
Some people have experienced charging issues due to direct sunlight (Easily fixable)
User Comments
After using my friend's Nuvi in Scotland last year I said I have to have one of these! It worked great and saved us many lost hours while effortlessly assisting us through hundreds of poorly signed round-abouts. He had a basic but very reliable Nuvi without many features other than direction finding, which is the main idea. I wanted a reliable Nuvi but with a few of the more interesting features. After reading reviews I eliminated the 700 & 800 series because of all the reported freezes. I eliminated …
Read more user comments about the Garmin Nuvi 1370 – 1370T GPS System
Bottom Line – Who is this best for
This is a gps system that is loaded with useful features, if you are looking for a middle range gps system that has solid features but does not cost a ton, then this is the unit for you.
Best Price
What you get in the box
Garmin Nuvi 1370/1370T
Preloaded City Navigator NT North America (U.S, Mexico and Canada)
Lifetime Maps and Traffic; FM Traffic Receiver With Vehicle Power Cable
Vehicle Suction Cup Mount
USB Cable & Dashboard Disc
Quick Start Manual
Video
Do you have any questions about this system? If you do post a comment below and we will respond.