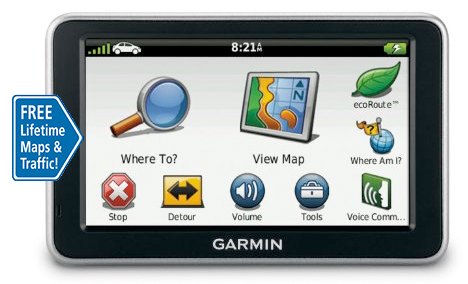 Description
The Garmin Nuvi 2640 LMT
comes with a large 5" screen is so easy to use, you simply talk to it. This Gps system has some amazing features including hands-free calling, FREE lifetime maps and traffic, lane assist with junction view, trafficTrends including historical traffic and speaks street names.
The Garmin Nuvi 2640 LMT
can does a whole lot more than just simply turn by turn directions. It has a route planning feature that accommodates upto 100 multiple planned routes. The "Where Am I?" emergency locator finds the closest hospitals, police stations, fuel stations, nearest address and intersections. The Garmin Nuvi 2640 LMT
also helps you remember where you parked by automatically marking your position when you remove it from your car. It's also compatible with lifetime traffic alerts and includes travel tools, such as JPEG picture viewer, world travel clock with time zones, currency converter, measurement converter and calculator. Photo navigation lets you download pictures from Garmin Connect™ Photos. You also get the Garmin Lock™ (anti-theft feature) and the gps system is also compatible with Garmin Garage™ where you can download free vehicles and voices.
Why its good
Form factor – Easy to carry
Performance – Good accuracy and fast satellite acquisition time
Free lifetime maps and traffic
Loaded with useful features
Con's
Bottom Line – Who is this best for
If you are a gadget person and want the latest and greatest when it comes to GPS systems then go with this fully loaded, feature rich gps system, it will not disappoint
Best Price
What you get in the box
Garmin Nuvi 2640 LMT
Preloaded City Navigator NT North America (U.S, Mexico and Canada)
Lifetime Maps and Traffic; FM Traffic Receiver With Vehicle Power Cable
Vehicle Suction Cup Mount
USB Cable & Dashboard Disc
Quick Start Manual
Video
Do you have any questions about this system? If you do post a comment below and we will respond.