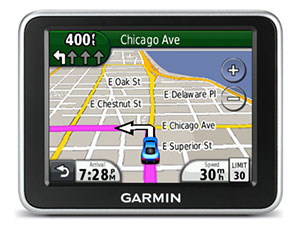 Description
The compact Garmin Nuvi 2250LT
3.5inch delivers a solid gps system with free lifetime traffic updates. This very affordable navigator also has solid features like maps for the U.S., Canada and Mexico and speaks street names and. Additional features include lane assist and myTrends which recognizes your favorite routes, plus ecoRoute to help calculate a more fuel-efficient route. Pedestrian capabilities can be enhanced with optional cityXplorer maps for mass transit information.
Why its good
Form factor – Small and very easy to carry
Performance – Good accuracy and fast satellite acquisition time
Free lifetime maps and traffic
Con's
Small screen might bother some people
Bottom Line – Who is this best for
If you are looking for a cheap gps system that simply gets you to your destination with solid features, then go with the Garmin Nuvi 2250LT
.
Best Price
What you get in the box
Garmin Nuvi 2250LT
Preloaded City Navigator NT North America (U.S, Mexico and Canada)
Lifetime Maps and Traffic; FM Traffic Receiver With Vehicle Power Cable
Vehicle Suction Cup Mount
USB Cable & Dashboard Disc
Quick Start Manual
Video

Do you have any questions about this system? If you do post a comment below and we will respond.