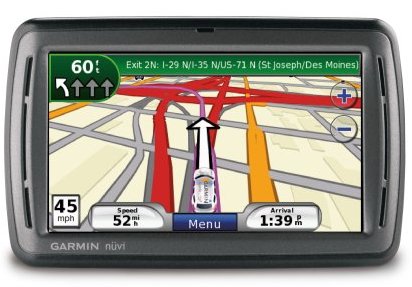 <

Description
The Garmin Nuvi 855
is a well designed gps navigation system that comes jam packed with features that include voice-activated navigation and lane assist with junction view. Both features help you to keep your hands on the driving wheel and tell your gps system where to go. It also comes with a clear widescreen display and is preloaded with maps.
It also comes with the "Where Am I" feature, which provides a one-touch access to your current location as well as nearby hospitals, gas stations and police stations. Garmin have redesigned the user interface with improved graphics and a new slide control for menu operation.
Why its good
Voice Recognition – Control functions on the gps with your voice
Form factor – Well designed and easy to carry
Good Routing Engine – The system calculates the best routes for you, better than competitors
Garmin WebUpdater – Garmin provides a very easy way to keep the gps system maps up to date
Text to Speech – The system announces the street names in a very nice natural voice.
Additional features like MP3 player, Lane Assist and "Where am I"
Con's
Bottom Line – Who is this best for
The Garmin Nuvi 855
is one of the best voice activated gps system in the market. Garmin includes a remote in the package which makes it easy to control the gps system. If you want a gps system that is easy to control without getting your eyes off the road, then this is the gps system for you.
Best Price
In the Box
The following items are included in the box
Garmin Nuvi 855
Remote for voice activation with battery
Vehicle Suction Cup Mount
Preloaded with maps of North America
FM receiver with vehicle power cable
Quick start manual
More information
Get more information and have questions answered on Garmin Gps Systems at our Gps Forums.
Do you have any questions about this system? If you do post a comment below and we will respond.