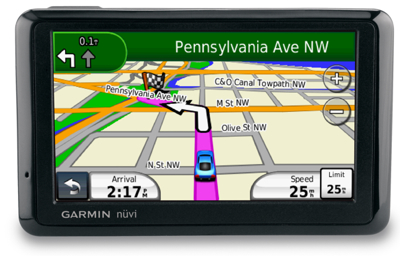 Description
The Garmin Nuvi 1390T
is a newly redesigned gps system by Garmin where they made the system thinner than previous Garmin Nuvi models. They also added some exciting new features which include enhanced graphics for a more richer user experience, ecoRoute where the gps system suggests fuel efficient routes that can help you save gas and money, a public transit feature which gives you the ability to navigate using buses, tramway's and rail systems.
The new Garmin Nuvi 1390T
is compatible with MSN direct with which you can use to avoid traffic backups, figure out the best route through traffic and receive accident warnings. It displays speed limits for most major roads and sports a new sleek,slim design that will fit comfortably in your pocket or purse.
Watch a demo of the Garmin Nuvi 1390T from Garmin
Why its good
Form factor – Well designed and easy to carry
Widescreen – See more of what is around you.
Good Routing Engine – The system calculates the best routes for you. The engine used in Garmins are better than the ones in tomtom or magellan
Garmin WebUpdater – Garmin provides a very easy way to keep the gps system maps up to date
Text to Speech – The system announces the street names in a very nice natural voice.
Lane Assist and junction view – 3D Graphics of road signs
EcoRoute – Save gas and money by using smarter routes
Bluetooth – Make hands free phone calls
Lifetime Nav traffic
Con's
Weak speaker – Difficult to hear at high speeds
Bottom Line
The new Garmin Nuvi 1390T
is a nice gps system that will be suitable for most people. If you find that you travel alot to new cities and want to use their public transit systems then this gps system will work great for you because of its public transit feature. It also comes with lifetime Nav traffic which is great for your local gps needs.
Best Price
In the Box
The following items are included in the box
Garmin Nuvi 1390T
EasyPort Suction Cup Mount
Preloaded with maps of North America
Adhesive Disk
User Guide
Services and Accessories Guide
Vehicle power cable
FM Traffic receiver
Carrying Case
Video Review
More information
You can read user comments of the Garmin Nuvi 1390T
or get more information and have questions answered on Garmin Gps Systems at our Gps Forums.
Do you have any questions about this system? If you do post a comment below and we will respond.
Garmin Nuvi 1390T GPS Review

,