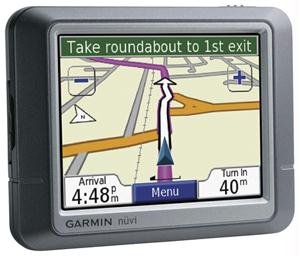 Description
The Garmin Nuvi 250
offers you simple navigation at an affordable price. This is an entry level gps system that comes preloaded with maps for North America and comes ready to go out of the box. The Garmin Nuvi 250
has a high sensitivity GPS receiver that makes it extremely accurate. You can also expand the unit by using the SD card slot to store your personal media and additional navigation tools.
Why its good
Easy of use – This system is very easy to use.
Easily transportable – Great form factor and design makes it fit in your pocket easily.
Faster processor – For smoother map drawing and vehicle icon motion through turns
Con's
Bottom Line – Who it is for
This is an entry level gps system and is perfect for those people looking for a simple and cheap gps system that simply takes you from point A to point B.
Best Price
What you get in the box
The following items are included in the box
Garmin Nuvi 250
Power Cable
Dashboard Disk
USB Cable
Quick start manual
Video Review
More information
You can read user comments about the Garmin Nuvi 250
Do you have any questions about this system? If you do post a comment below and we will respond.