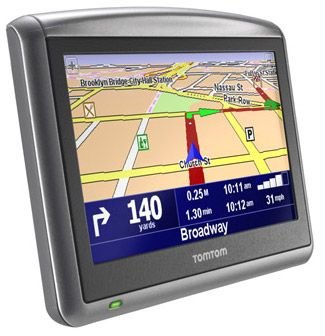 Description
The TomTom ONE XL-S
is designed to give you a powerful gps system in a slim, lightweight, 4.3 inch, easy to carry device. You get great features like 3D view, turn-by-turn instructions and the system comes complete preloaded with maps of the US and Canada.
The TomTom ONE XL-S
is preloaded with millions of points of interest to enhance your traveling experience–easily find your favorite gas stations, hotels, restaurants, and more. TomTom has the most accurate maps, and with TomTom Map Share technology, you instantly can modify street names, street direction, points of interest, and more on your own device. And with the "Help Me!" menu, added safety features enable you to easily access local emergency providers, such as police, fire stations, and hospitals. The "Where am I?" feature pinpoints your exact location to give to emergency providers. Award-winning Fold & Go EasyPort mount folds flat against the device, making it easy to take it with you from car to car.
No activation, no monthly fees.
Why its good
Easy of use – This system is very easy to use.
Help Me! Emergency menu – Get easy access to emergency providers around your location.
Tomtom Home – Tomtom provides a very easy way to keep your gps system maps up to date
Text to Speech – The system announces the street names in a very nice natural voice.
Download fun voices – You can download voices like Mr T or Yoda for a more interesting ride
Easily transportable – Great form factor and design makes it fit in your pocket easily.
Price
Con's
Short battery life
Useless blue tooth
Bottom Line – Who it is for
The TomTom ONE XL-S
is a the top of the line system that Tomtom has in the market. It is easy to use and has great features. Its a solid system and we would recommend this system to anyone. If you are looking for a great GPS system to use in the US or Canada then you cannot go wrong with the TomTom ONE XL-S
. For more information you can look at a list here of the best gps systems to see other good systems.
Best Price
What you get in the box
The following items are included in the box
TomTom ONE XL-S
Easyport Mount
USB Car Charger
USB Cable
Documentation
Video Review
More information
You can read comments about the TomTom One XLS
from Amazon.
Do you have any questions about this system? If you do post a comment below and we will respond.