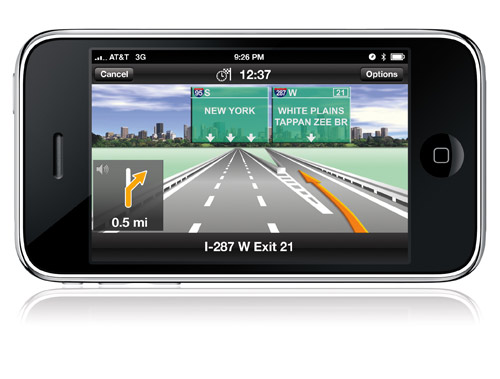 Description
Navigon have released their first app for the iPhone called the MobileNavigator that you can get right now from the Apple App Store. They app stores its maps on your phone so that you do not have to pay a monthly service fee. Its set to be priced at $99 but has an introductory fee of $69.
Why its good
Nice interface that is easy to understand
Many customization features
Quick access to addresses on your iPhone's contact list
Fast rendering of maps on screen
Con's
App takes about 30 seconds to launch, then more time to get a fix to the GPS signal
No text-to-speech
No traffic updates
Bottom Line – Who it is for
Based on the price of $99, this app is priced about the same as an entry level GPS navigation system portable device, however you get way more features than what you get on an entry level GPS.  This app is great for people who currently use google maps on their iPhone and want an upgrade.
Video Review