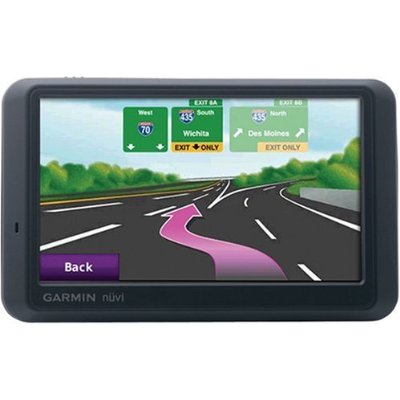 Description
The Garmin Nuvi 755T
comes with a 4.3 inch widescreen display, text-to-speech capabilities, medial player and FM transmitter for transmitting audio which includes driving directions, MP3 music and audiobooks from the GPS system to your car radio. The Garmin Nuvi 755T
comes preloaded with high detailed road maps for the entire United States,  Canada and Puerto Rico. The map database comes with over 6 million POI's(Points of Interest) which include hotels, restaurants and gas stations.
You also get a new feature built into the Nuvi 7×5 series called Lane Guidance. This new feature shows you a 3D view of what land you should be in for upcoming turns. This amazing GPS system also connects with Google to give you the ability to navigate by Photo using Garmin connect photos.
Why its good
Easy of use – This system is very easy to use.
Lane Guidance –  Views of traffic lanes that you are supposed to be in to make a turn
Large POI(Points of Interest) database
Text to Speech – The system announces the street names in a very nice natural voice.
Easily transportable – Great form factor and design makes it fit in your pocket easily.
Faster processor – For smoother map drawing and vehicle icon motion through turns
Good Routing Engine – The system calculates the best routes for you. The engine used in Garmins are better than the ones in tomtom or magellan
Free lifetime traffic included
Con's
Short battery life
Free traffic includes Ads
Bottom Line – Who it is for


This is one of the best GPS systems in the market today. With all its amazing features, you will probably not even have to look at it when driving. This system is very easy to use and is  perfect for people who are not tech geeks, want to get a good gps systems with great features.
Best Price
What you get in the box
The following items are included in the box
Garmin Nuvi 755T preloaded with maps for North America(US, Canada, Puerto Rico)
Power Cable
Dashboard Disk
USB Cable
Quick start manual
Video Review
More information
You can read user comments on the Garmin Nuvi 755T
Do you have any questions about this system? If you do post a comment below and we will respond.