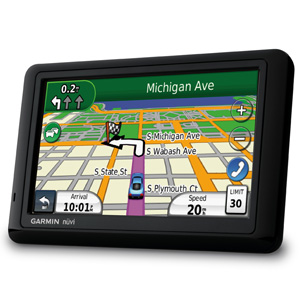 Garmin recently announced the release of a new wide screen gps system that they are going to add their Nuvi series. The new Nuvi 1490T will have thinner design than current Nuvi's and will features that include a wide 5″ screen, Bluetooth, free lifetime traffic alerts, speed limit notification and a pedestrian mode. The new system will be available in August.
Excerpt from Press Release:
"The nüvi 1490T is designed to give drivers a big picture of the route ahead, while offering every-day conveniences customers want and need to take the worry out of traveling," said Dan Bartel, Garmin's vice president of worldwide sales. "With its enhanced pedestrian navigation capabilities and ultra-thin design, it's also a perfect companion for travelers in unfamiliar territory who want to explore the city on foot or with public transportation."

For the ultimate in convenience, the nüvi 1490T also makes it easy for drivers to steer clear of traffic accidents, road closures and construction. An integrated traffic receiver comes standard with the nüvi 1490T and gives free, lifetime traffic alerts without a subscription fee. The free lifetime traffic alerts are from NAVTEQ Traffic and are available in select coverage areas. Lifetime traffic alerts extend for the useful life of the nüvi unit or as long as Garmin receives traffic data from its traffic supplier.

To help drivers make their gas tanks go the extra mile, the nüvi 1490T comes standard with ecoRoute™ that suggests fuel-efficient navigation. In addition to "faster time" and "shorter distance" for route preference, ecoRoute lets nüvi users choose "less fuel" as the best way to save gas and money. Through ecoRoute's Fuel Report and Mileage Report, drivers can focus on their fuel conservation and find fuel-saving tips along the way.
Related Blogs