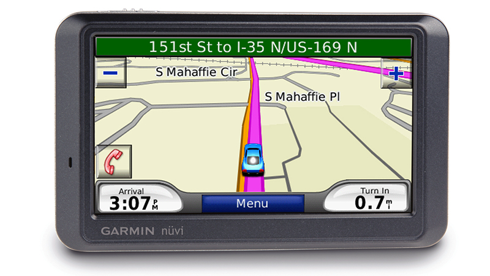 Description
The Garmin Nuvi 780
with MSN direct content gives you the latest traffic updates on your gps syste. Additional features like multi-destination routing and "Where Am I?" help to create a superior navigation device for business as well as casual drivers. As with all Garmin Nuvi's, you get Garmin reliability, the fast satellite lock of an integrated high-sensitivity receiver, a slim, pocket-sized design with a gorgeous display, an easy, intuitive interface, and detailed NAVTEQ maps for the United States, Canada and Puerto Rico with more than 6 million name-searchable points of interest. All of the 700-series navigators also feature a rich array of features including spoken directions in real street names, integrated traffic receivers, MP3 player and photo viewer, and an FM transmitter that will play voice prompts, MP3s, audio books, and more, directly through your vehicle's stereo system.
Why its good
Ease of Use – This system is so easy to use you do not have to read the manual. Just start it up and go.
MSN Direct – Great information resource that gets you up to date information like weather, news, fuel prices and movie listings.
Good Routing Engine – The system calculates the best routes for you. The engine used in Garmins are better than the ones in tomtom or magellan
Garmin WebUpdater – Garmin provides a very easy way to keep the gps system up to date
Text to Speech – The system announces the street names in a very nice natural voice.
Faster processor – Comes with a 333 Mhz processor for smoother map drawing and vehicle icon motion through turns
Easily transportable – Great form factor and design makes it fit in your pocket easily.
Where am I – Gives the user one-touch access to your current location, nearby hospitals, police, and gas stations.
Handsfree Bluetooth – It is very easy to pair you bluetooth devices to this system.
Con's
FM transmitter- The transmitter is very weak making this feature virtually useless.
Speaker is a little weak
MSN Direct data takes a long time to download before it is available for use
Bottom Line


The Garmin Nuvi 780
is a very good GPS System and when paired with MSN Direct service, it becomes a great system. You get accurate traffic reports and the gps system guides you through the mess easily and its route optimization engine always gives you a good efficient route. As for most Garmins the Garmin Nuvi 780
does a great job at the basics of gps navigation. We would recommend this machine to anyone looking for a gps system.
Garmin 780 Best Price
In the Box
The following items are included in the box
Garmin Nuvi 780
EasyPort Suction Cup Mount
Preloaded with maps of North America (United States, Canada, and Puerto Rico)
MSN Direct receiver with integrated vehicle power cable
3 months free MSN Direct service
Adhesive Disk
User Guide
Services and Accessories Guide
Vehicle power cable
USB Cable
Nuvi 780 Video Review
More information
You can read user comments on the Garmin Nuvi 780
or get more information and have questions answered on Garmin Gps Systems at our Gps Forums.
Do you have any questions about this system? If you do post a comment below and we will respond.