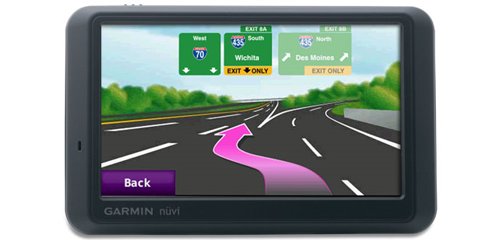 Description
The Garmin Nuvi 765T
adds a number of handy routing and communication features to an already impressive list of specs, including a 4.3-inch widescreen display, text-to-speech capabilities, media player, and FM transmitter for transmitting audio–including directions and MP3 music and audiobooks–from the device to your car radio.
The Garmin Nuvi 765T
will display transparent 3-D buildings and photo-realistic landmarks, available when driving in larger cities which brings a whole new level of realism to the map screen. The Garmin Nuvi 765T
brings a large number of important new features that improve the navigation experience for the user making it easier to use and gives you a reason to upgrade.
Why its good
Features- This system has a ton of new features from Garmin that make it very attractive and easy to use.
3D Lane Guidance – Best 3D lane guidance in the market today. The full-screen 3D Lane Assist Junction View shows up automatically when entering a highway and is amazingly very accurate. Road signs match-up with what you see above head, on the road when traveling on a highway. Very very nice.
Good Routing Engine – The system calculates the best routes for you. The engine used in Garmins are better than the ones in tomtom or magellan
Garmin WebUpdater – Garmin provides a very easy way to keep the gps system up to date
Text to Speech – The system announces the street names in a very nice natural voice.
Faster processor – Comes with a 333 Mhz processor for smoother map drawing and vehicle icon motion through turns
Easily transportable – Great form factor and design makes it fit in your pocket easily.
3-D buildings and landmarks – This feature makes navigating through city streets very easy
Bluetooth – It is very easy to pair you bluetooth devices to this system.
Con's
FM transmitter- The transmitter is very weak making this feature virtually useless.
Speaker is a little weak
Bottom Line


The Garmin Nuvi 765T
is simply one of the best gps systems that you can buy today. Its got a ton of useful features and the new 3-D Lane Assist renders upcoming highway exits in photographic detail, and makes complex highway intersections much easier to negotiate. Unfortunately 3-D data it isn't yet available for most highway intersections which means that the feature does not show up all the time. Garmin are building up their 3D database and hopefully in a few months they will issue updates that will take care of this problem. This is a great system to buy. You can look at a list here of the best gps systems to see other good systems.
Best Price
In the Box
The following items are included in the box
Garmin Nuvi 765T
EasyPort Suction Cup Mount
Preloaded with maps of North America (United States, Canada, and Puerto Rico)
Adhesive Disk
User Guide
Services and Accessories Guide
Vehicle power cable
USB Cable
Video Review
More information
You can read user comments on the Garmin Nuvi 765T
or get more information and have questions answered on Garmin Gps Systems at our Gps Forums.
Do you have any questions about this system? If you do post a comment below and we will respond.
Garmin Nuvi 765T Review

,