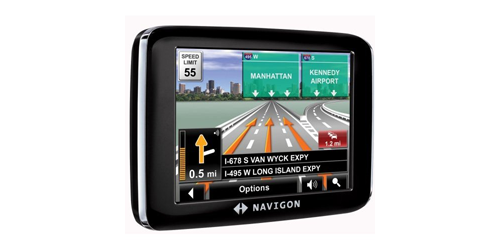 Description
The Navigon 2200T
has a very stylish design, combining an elegantly designed black case with a 3.5-inch screen that provides photo-realistic images of virtually every highway intersection and exit complete with sign text and lane guidance. Pre-loaded with maps of the continental U.S., the Navigon 2200T
comes with free real-time traffic updates (for the life of the device) and simple rerouting with the touch of a button. Other features include text-to-speech capabilities for turn-by-turn directions with street names, speed display, and millions of pre-loaded points of interest.
Why its good
Free life time traffic updates for life – No subscriptions or additional hardware will be needed. All you do is turn the Navigon 2200T on and get instant access to traffic information. The system will alert you of traffic problems and provide alternate routes.
Text to Speech – The system announces the street names in a very nice natural voice.
Ease of use – You do not need to read the manual to operate this system.
Reality View – System shows lane pictures and highway signs as they appear in real life.
Easily transportable – Great form factor and design makes it fit in your pocket easily.
Price
Con's
No USB Cable provided
Slow at finding satellites, sometimes takes longer than one minute
POI database is small – You have to download more points of interest from their website.
Bottom Line
The system is great for people buying their first gps systems. The real view displays realistic exit signs and the system has a great design making it very easy to carry and transport the gps system. If you travel alot, we suggest that you buy a garmin and the navigon does not have a very good POI (Points of interest) database. You can look at a list here of the best gps systems to see other good systems.
Best Price
In the Box
The following items are included in the box
Navigon 2200T
Preloaded maps for U.S.
Car mount
Adapter for dashboard mounting (plastic disk)
Car charger
Quick Start Guide
Video Review
More information
You can read customer reviews of the Navigon 2200T Gps Navigation system
or get more information and have your questions answered at our Gps Forums.
Do you have any questions about this system? If so, post a comment below and we will respond.
Related Blogs