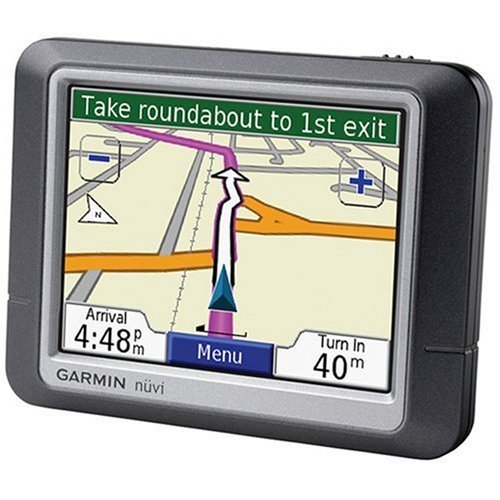 Description
The Garmin Nuvi 260
is a good system and is basically the Garmin Nuvi 250 with the addition of text to speech which gives you spoken directions with the real names of streets (e.g. "turn left in 50 feet at Main Street", rather than "turn left in 50 feet").
The Garmin nuvi 260
is very easy to use, you will not need to read the manual to know how to operate the system. It also has a large number of points of interest (POI's) and features that are useful. The display
is bright in the daytime and is readable in direct sunlight. It also comes with an automatic night time feature in which the LCD display switches over to a different color scheme and brightness level to accommodate for night driving. You can also load photos as start up screens and swap out the little car icon on your map for other downloadable ones.
Why its good
Display – The screen is bright, sunlight readable and very easy to read. Good map layout with rich display.
Ease of use – You do not need to read the manual to operate this system.
Good Routing Engine – The system calculates the best routes for you. The engine used in Garmins are better than the ones in tomtom or magellan
Garmin WebUpdater – Garmin provides a very easy way to keep the gps system up to date
Text to Speech – The system announces the street names in a very nice natural voice.
Faster processor – Comes with a 333 Mhz processor for smoother map drawing and vehicle icon motion through turns
Easily transportable – Great form factor and design makes it fit in your pocket easily.
Price
Con's
Weak internal speaker – It gets hard to hear what the system is saying because it has a very small speaker.
No USB Cable provided
Slow at finding satellites, sometimes takes longer than 30 secs
Bottom Line
The Garmin nuvi 260
is a great gps system for the price that you will pay. With the text to speech feature, this gps system will meet the needs of most people looking into purchasing a new gps system. You can look at a list here of the best gps systems to see other good systems.
Best Price
In the Box
The following items are included in the box
Garmin nuvi 260
EasyPort Suction Cup Mount
Preloaded City Navigator North America NT (full coverage)
Adhesive Disk
User Guide
Services and Accessories Guide
Vehicle power cable (12V)
Video Review
More information
You can read customer reviews of the Garmin Nuvi 260
, see a demo of the Garmin Nuvi 260 or get more information and have your questions answered on Garmin Gps Systems at our Gps Forums.
Do you have any questions about this system? If so post a comment below and we will respond.