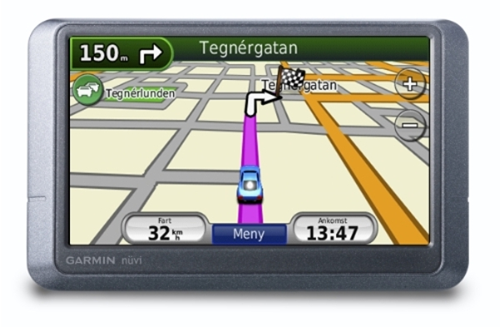 Description
The Garmin Nuvi 255W
is great gps system to own because it is very easy to use and does what it is supposed to do. Get you to your destination effectively. The Nuvi 255W gives you complete maps for North America and Text-to-Speech, so you get turn by turn spoken directions with the real names of streets (e.g. "turn left in 50 feet at Main Street", rather than "turn left in 50 feet").
The system is designed very well and can comfortably fit into your pocket. The bright 4.3-inch touchscreen display is anti-glare for ease of viewing during the day and automatically changes its color profile for easy viewing at night or in dim light. It offers 2d or 3D perspective views. One of the best features that the Garmin Nuvi 255W
offers is the "Where Am I?" where you can just tap "Where Am I?" on the screen to find the closest hospitals, police stations, fuel stations, nearest address and intersection. You also get to download the latest maps from free from Garmin if you purchase this gps system.
Why its good
Fast satellite acquisition- Incredibly fast satellite lock.
Wide screen Display – The screen is bright, sunlight readable and very easy to read
Ease of use – You do not need to read the manual to operate this system.
Good Routing Engine – The system calculates the best routes for you. The engine used in Garmins are better than the ones in tomtom or magellan
Garmin WebUpdater – Garmin provides a very easy way to keep the gps system up to date
Text to Speech – The system announces the street names in a very nice natural voice.
Faster processor – Comes with a 333 Mhz processor for smoother map drawing and vehicle icon motion through turns
Easy Connect – Send addresses directly to your Garmin from Google Maps or Mapquest
Con's
Weak internal speaker – It gets hard to hear what the system is saying because it has a very small speaker.
Bottom Line


If you are looking for a gps system that works well and simply does what it is supposed to do then definitely go with the Garmin Nuvi 255W
. People who have bought this system are satisfied by its easy of use and functionality. You can look at a list here of the best gps systems to see other good systems.
Best Price
In the Box
The following items are included in the box
Garmin Nuvi 255W
EasyPort Suction Cup Mount
Adhesive Disk
User Guide
Services and Accessories Guide
USB Cable
Video Review
More information
You can read customer reviews of the Garmin Nuvi 255W
or get more information and have your questions answered on Garmin Gps Systems at our Gps Forums.

Related Blogs