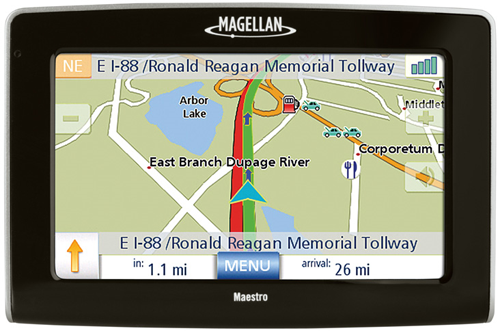 Description
The Magellan Maestro 4250
gps system has a nice 4.3″ widescreen for easy viewing and also includes an FM-TMC receiver for instant traffic updates. The Maestro 4250 will recalculate your route immediately when detects that you are approaching congestion which is a great feature. It also contains preloaded maps of the entire U.S., Canada, and Puerto Rico, including 6 million points of interest (POI's) including many hotels, restaurants, gas stations, and phone number information so you can call ahead for reservations or help.
It features text-to-speech voice prompts that announce actual road names at turns, so you can concentrate on your driving, as well as bluetooth wireless technology that lets you dial and receive calls safely with a compatible phone, and access your phone's address book while leaving your phone in your bag or pocket. The built-in microphone and speaker make communication easy. Easy connection to AAA Roadside Assistance and access service details along with recommended destinations from the leading travel resource.
You can program the Magellan Maestro 4250
to understand basic voice commands in a few simple steps. You'll be able to advance through menus and receive guidance without even touching the screen. This GPS satellite navigation unit has a built-in antenna, suction-cup windshield mount, dashboard disk headphone jack, car/home power adapters, USB cable, carrying case and built-in rechargeable battery with up to 4 hours of life. Weight – 6.9 ounces Includes 3-Months Free Trial of FM-TMC Traffic-Info.
Why its good
Nice Screen – Widescreen and bright making it very easy to read
Form factor – Well designed, thin and very easy to carry.
Large POI Database – You get over 6 million points of interest.
AAA TourBook data included
Long battery life – System can last about 6 hours between charges
Text to Speech – The system announces the street names in a natural voice.
Faster processor – Fast and responsive
Con's
Unit response is a little slow
Speaker is very weak
Bluetooth is limited in making phone calls
Voice recognition is not very easy to use and only seems to work in a quiet car
Text to speech sometimes does not read the road names clearly
Magellan has very poor customer service
Bottom Line
This system comes with a split-screen (TrueView) which is useful for understanding an upcoming turn. It recalculates your route very fast if you miss a turn which is a good thing and also is not very pricey. Although this system is not better than most of the garmin nuvi's we still would recommend this system if you were interested in a magellan.
6.5 out of 10
Best Price
In the Box
The following items are included in the box
Magellan Maestro 4250 GPS receiver
Adhesive disk for dash mounting
Basic cradle
Vehicle power adapter (12-24 watts)
Quick reference guide and CD
Windshield mount
Video Review
More information
You can get more information and have your questions answered on Magellan Gps Systems at our Gps Forums.