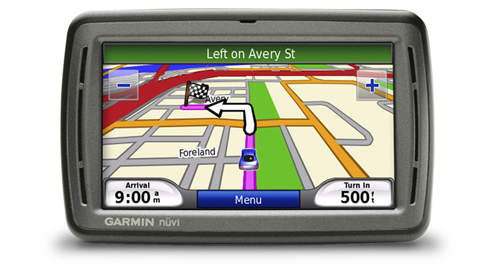 Description
The Garmin 265WT
is a great machine that comes with a ton of features and best of all does not cost that much. This system comes with great features that include text to speech, blue tooth and FM traffic to get you away from all the traffic jams around you.
The Garmin Nuvi 265WT
is so easy to use,  the map is easy to read, the menus are intuitive, and the graphical interface makes it easier to view traffic alerts. Features are nicely integrated so as not to needlessly clutter the screen. For example, telephone controls only appear when the Nuvi is actively paired with a Bluetooth phone. It is a full featured GPS system that offers a well designed map screen, slim form factor, free traffic for the life of the device, and a large POI database.
Why its good
Multi-Route Stopping – You can set up a route and set up several stops on the route very easily.
Easy Bluetooth Connection – Connecting your phone to this device is extremely easy.
Ease of use – You do not need to read the manual to operate this system.
Good Routing Engine – The system calculates the best routes for you. The engine used in garmins are better than the ones in tomtom or magellan
Garmin WebUpdater – Garmin provides a very easy way to keep the gps system up to date
Text to Speech – The system announces the street names in a very nice natural voice.
Faster processor – Comes with a 333 Mhz processor for smoother map drawing and vehicle icon motion through turns
Send addresses directly to your Garmin from Google maps or mapquest.
Con's
Screen is not very bright
Cannot exclude roads on route
Retains finger prints very easily
Weak internal speaker – It gets hard to hear what the system is saying because it has a very small speaker.
Touch screen is not very sensitive – You have to press the screen hard sometimes for the system to recognize your input
Bottom Line


The Garmin Nuvi 265WT
is one of the best GPS systems in the Garmin Nuvi line and with its low price making this gps system a good deal. As you will always get with Garmin nuvi's, you get a ton of useful features and is extremely easy to use. The Nuvi 265WT picks routes very well and handles missed turns automatically and recalculates in a few seconds. With this system, Garmin provides its buyers with free traffic alers for the life of the system. We highly recommend this gps system to anyone looking for a solid gps system that has multimedia features and simply does what it is suppose to do.
Garmin 265WT Prices
In the Box
The following items are included in the box
Garmin Nuvi 265WT
FM traffic receiver with vehicle power cable
Vehicle suction cup mount
USB cable
Dashboard disc
Quick start manual
Video Review
More information
You can get more information and have your questions answered on Garmin Gps Systems at our Gps Forums.