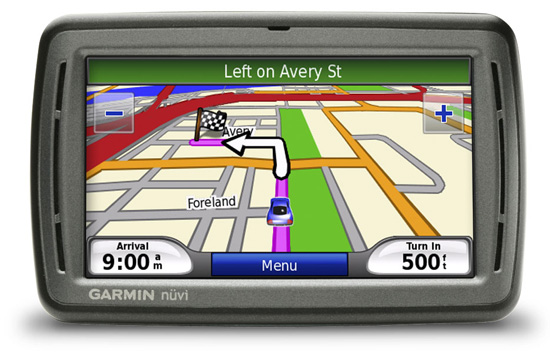 Description
The Garmin Nuvi 760
is a great machine that will definitely please you with its performance and functionality. This system will give you directions to your destination flawlessly and has a ton of amazing features that are extremely useful. The user interface has a solid design and is very easy to use. You will be able to use almost all the features in this machine without reading the manual. The machine also has a nice, sleek design and has an internal antenna that is sensitive enough to give you some a good signal strength and will be accurate almost anywhere you go.
Its nice wide-screen is bright and is readable in direct sunlight. You also get a full QWERTY keyboard and the "Where am I?" works very well and is very useful in showing you the nearest address, major intersections, nearby hospitals, police stations and gas stations. The "Where did I leave my car" also provides to you a feature that helps you find your car in case you loose it in a large parking lot or something. This machine is easily one of the top Gps Systems in the market today.
Why its good
Multi-Route Stopping – You can set up a route and set up several stops on the route very easily.
Easy Bluetooth Connection – Connecting your phone to this device is extremely easy.
Ease of use – You do not need to read the manual to operate this system.
"Where Am I" – Gives you easy touch access to your current location, as well as nearby hospitals, police, and gas station
Good Routing Engine – The system calculates the best routes for you. The engine used in garmins are better than the ones in tomtom or magellan
Garmin WebUpdater – Garmin provides a very easy way to keep the gps system up to date
Text to Speech – The system announces the street names in a very nice natural voice.
Con's
Searching POI's can be tedious
FM tramitter is not well designed and is not clear
Weak internal speaker – It gets hard to hear what the system is saying because it has a very small speaker.
Touch screen is not very sensitive – You have to press the screen hard sometimes for the system to recognize your input
Bottom Line
The Garmin Nuvi 760
is simply one of the best GPS in the market today, and with a current price of less than $250 makes this gps system a steal. Full of useful features and it is extremely easy to use. We highly recommend this gps system to anyone looking for a solid gps system that has multimedia features and simply does what it is suppose to do.
Best Price
In the Box
Garmin Nuvi 760
FM traffic receiver with vehicle power cable
Vehicle suction cup mount
USB cable
Dashboard disc
Quick start manual
Other Reviews on the Garmin Nuvi 760
GpsMagazine's review of the Garmin Nuvi 760
More information
You can get more information and have your questions answered on Garmin Gps Systems at our Gps Forums.