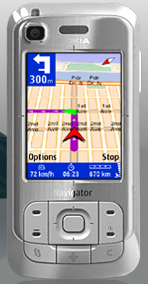 Route 66 a mapping and navigation software company, recently announced the release of their brand new mapping software called the Mobile 8 for smart phones and pocket pcs that use Windows Mobile. The new software package features high definition maps and a quick search destination finder. Other features include:
Voice guided Navigation
Sync application to administer and transfer maps to and from your PC
Content available for purchase, such as: traffic, weather, travel guides, and map updates at the city, regional, and country level
The software has been release in Europe as for now, no word if they will be releasing a version in the US.