If you want to know the best deal that you can get on gas prices accurately and instantly, use this amazing 2 step guide to help you :
1. Buy the New Dash Navigation GPS System
2. Use it
That's it, lol.
Here is a great example of how you can avoid paying the highest gas prices around you by simply using a gps navigation system. A Dash navigation employee was driving around in San Francisco and passed this gas station that was selling gas at a whopping $4.09 per gallon.
The new Dash express gets its gas price data from We get our gas price data from our partner Opisnet. The gas price data is based on credit card transaction data, which gives the dash express broad coverage as well as very accurate data. The prices are then sent to your dash express and updated up to 4 times a day because they change frequently.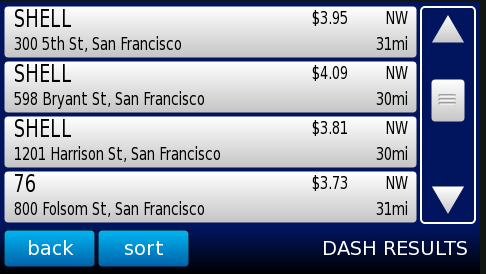 Notice the $4 gas station has a competitor no more than a mile away selling gas at $3.73.