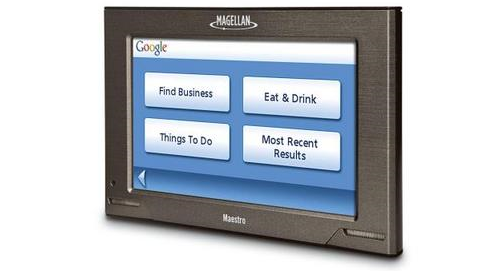 Magellan have just announced the release of a brand new gps navigation system called the Magellan Maestro Elite 5340 which will feature two way connectivity. Magellan are able to provide this service by partnering with Google Local search.  Using Google's real time local search, Magellan's users will be able to search the Web for businesses in a specific neighborhood, providing detailed, Internet-based information about those businesses – not just the business name or category. Users will also receive real time traffic information, local weather forecasts and the ability to send addresses from the internet to the gps device.
"As the GPS category begins to expand beyond basic navigation and into more versatile exploration uses, the personal navigation device will become a primary resource for drivers and travelers to search for and access real-time information, monitor traffic information about their specific routes, and transmit data between communications devices," said Nelson Chan, president and CEO of Magellan.
This system it seems has been designed to compete with the new Dash Express and is expected to retail at $1299. It will be interesting to see how well this machine does in the market because of its steep price, the dash express will be offered at only $599 plus a $10 to $13 monthly fee.