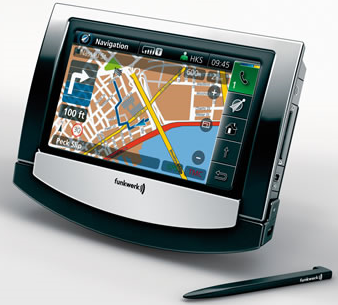 Raytel have just announced that they will showing the new EGO drive at the CES 2008. The Ego Drive is a gps navigation system that comes fully equipped with a remote control, 3D mas and also offers bluetooth. It also features Text-to-speech technology that reads text messages to you, a picture viewer, mp3/video player.
The EGO drive features:
High-definition, full color 4.3 inch touchscreen
Wireless remote control
Built-in high capacity, rechargeable Li-Ion battery
Docking cradle for portability and port replication
SD Card (up to 2GB) and built-in memory
2-Year Limited Warranty
Voice recognition (speech-to-text, no training required)
Integrates and mutes car's stereo system
Supports all Bluetooth mobile phone voice commands
DSP technology for noise and echo suppression
Reads out text messages (SMS text-to-speech)
Shows text and picture messages (SMS and MMS)
Accommodates up to 10 different user profiles
Remote control
Dynamic routing with 3D map view and auto re-route
Shows landmarks and POI's
Voice prompts (e.g. "Turn left in 500 ft.")
TMC (FM traffic) guides users around heavy traffic
Pre-installed maps of USA and Canada
The system will be available some time next year.