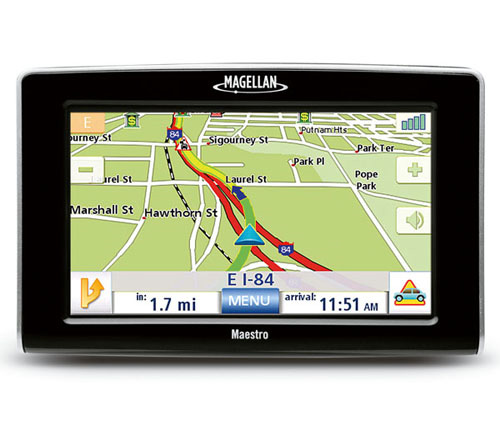 The Magellan Maestro 3200
is part of the new line of gps navigation systems that Magellan released during the fall of 2007. It is an affordable unit and packs a high powered Gps system, very easy to use and is specifically designed for first time users. It has a great form factor and will fit very easily into your shirt or purse. It has a simple to use touch screen and comes loaded with maps of the US, Hawaii and Puerto Rico. You get verbal and on screen directions to guide you to your destination.
The system has a 3.5-inch, anti-glare, touch screen, which presents the user with an intuitive list of options. The screen displays the position of the user and can offer the user a useful information such as distance to destination, the distance to the next turn and the estimated time of arrival. The Magellan Maestro 3200
also features SD card compatibility so that the user can easily back-up their address book and more . More information after actual pictures of the gps system.
Pictures
Best Price
What you get – what's in the box
Magellan Maestro 3200
Windshield mount
Adhesive disc for dash mounting
Basic cradle
Cigarette lighter power adapter
Quick reference guide and CD-ROM
Pro's:
Price
SD Expansion slot
Switches to night mode colors automatically
Software allows you to add your own POI's (Points of interest)
Very easy to use
Solid mount
Sleek beautiful design
Cons:
No text to speech – The system will tell you to "take next right" instead of "take right on Main St."
Only 1.3 million POI's (Points of interest)
No USB cable provided
Short battery life
Bottom Line


The Magellan Maestro 3200
is designed for ease of use (you don't have to read the manual). It is small enough to fit into a shirt pocket or purse and works very well for a first time buyer of a gps system who just wants directions to a destination.
Learn more about the Maestro 3200
Want to learn more about this Gps Magellan System:
Magellan Maestro 3200 Review

,