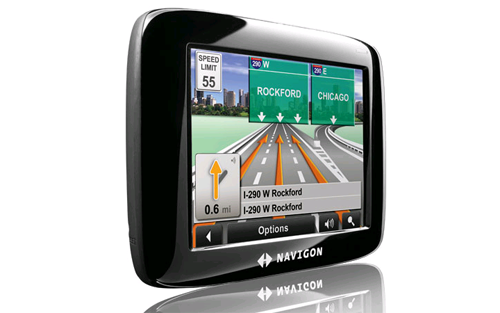 Navigon announced the release of a new gps system that is very affordable called the Navigon 2100. With an MSRP of $249, this new system is among one of the only products in that price range price range that offers spoken driving directions and street names with advanced text to speech technology.
This new gps navigation system should be available sometime this fall and will not surprise us if you will be able to get it for under $200 (Black Friday deals have this system at $99). Some of its features include:
Ultra-slender, portable design with an easy-to-read 3.5″ screen
Extra guidance with exclusive 3D Reality View
Text-to-Speech technology offers spoken turn-by-turn directions and street names so you can keep your eyes on the road
Intuitive touch-screen menus and stunning 2D and 3D maps

You can also watch a short video demonstration of the Navigon 2100 from the manufacturer
Download a pdf document of the Navigon 2100 datasheet
You can also see this review from CNET. (6.3 out of 10) – The bottom line: Though the affordable price tag and text-to-speech functionality are nice, the Navigon 2100′s sluggish performance and roundabout route recalculations are a turn off; you can get a better entry-level portable navigation device in the Mio C230.
If you already have one of these you can update your Navigon 2100, 5100 or 7100 for free by registering your system.
Related Blogs
Related Blogs on Navigon 2100
Related Blogs