Mercedes-Benz recently announced a new service that they call search & send which is a new and convenient way to plan your trip destinations ahead of time. By using Yahoo!® Local Maps and Google™ Maps web sites you can search for a destination online, then send it right to your Mercedes-Benz.
This new service can be tested and experienced Mercedes-Benz Search & Send at upcoming 2008 C-Class Ride & Drive events, and will be available starting on the S-Class, CL-Class, and C-Class with the Multimedia Package and Navigation System models.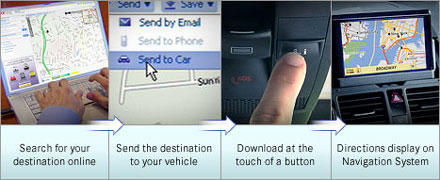 Although-not-yet in available to the public, Dash, who are about to unleash the Dash Express has features very similar to "search and send" where you can send an address from the internet directly to your gps system in your car. The advantage that Dash has over mercedes is that the dash gps system is portable.