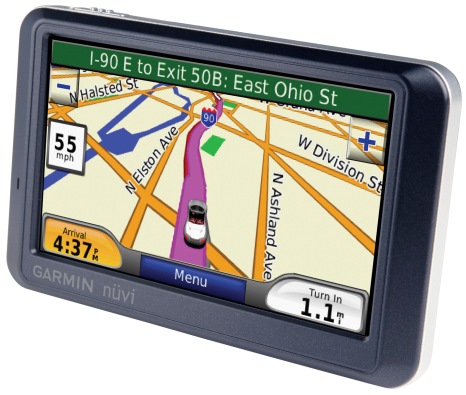 Garmin have announced the release of two new gps navigation systems to join their Nuvi family, the Garmin Nuvi 760
and Garmin Nuvi 770
. Like their other widescreen models, the Nuvi 700 series will have bright, sunlight readable 4.3″ screen and has a thin form factor that makes it easy to carry. Both machines come preloaded with high detailed City navigator NT road maps for the US, Canada and Puerto Rico. The Garmin Nuvi 770
with also have maps of Europe. Additional features include:
Built-in FM transmitter
MP3s and audio books playback through vehicle's stereo
Bluetooth wireless
Traffic Receiver
Internal Antenna
Jpeg Picture Viewer
Currency converter
"Where am I?" – The Garmin Nuvi 770 even remembers where you parked. It automatically marks your position when you remove it from the windshield mount, so you can navigate with nüvi on foot and find your way back to your vehicle. Perfect for unfamiliar spots and crowded lots such as amusement parks, stadiums and malls.
"The 700 series allows users to truly enjoy the best of both worlds in personal navigation," said Dan Bartel, Garmin's vice president of worldwide sales. "Whether you're exploring an unfamiliar city or looking for a new restaurant in your neighborhood, this line of nuvis is the perfect combination of power and portability. And with the Garmin Nuvi 760 and Garmin Nuvi 770 , you can locate a restaurant, find its number, call in reservations and then hide the nuvi away in a pocket or purse."
The Garmin Nuvi 760
and Garmin Nuvi 770
are available now.

You can also watch a
Garmin Nüvi 760 video demonstration
Related Blogs