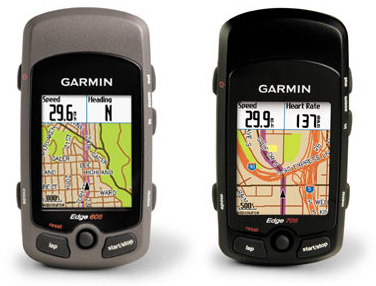 Garmin today announced the new Edge 705 and Edge 605 which are the latest innovations in their popular line of personal training systems for recreational and advanced cyclists. The new Edge 605 and Edge 705 provide several enhance features including:
Mapping capabilities
Street navigation
2.2″ color display
Tracking vertical profiles, climb and descent, altitude, speed, distance, and time.
The new Edge's benefits continue long after the workout. By pairing the Edge 705 or Edge 605 with Garmin Connect, users can join a worldwide network of cyclists and outdoor enthusiasts and log their workouts, track their totals, share workouts and participate in an online community.
"The Edge 705 gives cyclists the most effective tools they need to train efficiently and share data easily," said Dan Bartel, Garmin's vice president of worldwide sales, "and these new products are further proof of how innovative technology can enrich people's lives and help them better enjoy their exercise and recreational activities."
Both units are expected to be available in December 2007, the Edge 705 will have an estimated retail price of $499.99 while the Edge 605 will be at $399.99