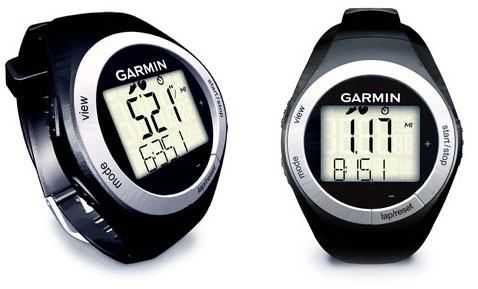 Garmin recently announced the release of a new fitness device the Forerunner 50 which is an entry level version of their forerunner series. The system however does not have a gps receiver to measure speed and distance, it uses a motion activated foot pod to do so. The system should cost less than $100.
"The Forerunner 50 provides runners, walkers and cyclists with a cost-effective training tool that is compact and convenient," said Dan Bartel, Garmin's vice president of worldwide sales. "Whether you're training diligently for a race or taking a leisurely stroll, the Forerunner 50 helps you get the most out of your time spent exercising."
Garmin provide a wireless USB antenna that plugs into your PC and automatically downloads workout data stored on the watch. The new fitness watch will also interface wirelessly with other fitness devices, such as a heart rate monitor or a foot pod that monitors speed and distance.
The Forerunner 50 can track and record up to seven hours and 100 laps of detailed exercise data, the company said. While the foot pod enables the Forerunner 50 to track and record speed, distance, cadence, steps and calories burned, the device also can be used for cycling with an optional bike speed and cadence sensor.
You can expect the Forerunner 50 to be available in October in retail stores.