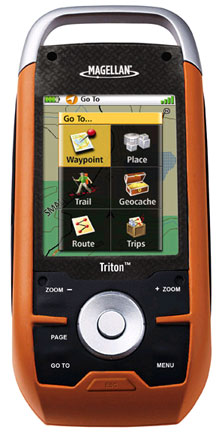 Magellan announced the introduction of its new Triton series of portable handheld GPS receivers that feature the most advanced design and navigation experience available in the market today. With built-in base maps, the Triton 2000 (pictured) features
a newly redesigned user interface with color
2.7-inch QVGA touch screen that enables the easy selection of routes, waypoints and other features
Built-in 2MP camera
SD card slot
Electronic compass and barometer
Speaker/microphone
Flashlight
The Triton series will have six new units they include the following with updated product pages:
All the new systems are designed with a new user interface and graphics making the Tritons easier to use and more accessible to a greater population of outdoor enthusiasts. The Triton series is significantly easier to use than previous versions of any outdoor GPS device, creating new opportunities to reach people who enjoy outdoor activities.
Additionally, Triton is the first Magellan handheld GPS to feature their new, free maps and content management application called VantagePointâ"¢, which enables users to easily upgrade and share information to and from their Magellan units. VantagePoint will allow Triton users to download additional maps onto their devices, as well as upload stored treks, waypoints and other recorded media.