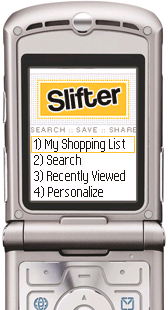 Sprint and a new start up company called GPShopper have announced the release of Slifter a mobile local search application that employs GPS to find products at neighboring retail locations.
Have you ever walked down the street and thought of an item you wanted to
buy or simply wondered what store nearest to you had the latest hot new product?
Slifter – gives you the information you need, such as:
How much is it?
Where is the nearest store where I can buy it?
Is it in stock?
How do I get there?
All this plus product images and maps to nearby stores. Slifter also lets you
text products to friends and family so they can add them to their Slifter shopping lists.
Slifter is available for download for $1.99 per month. To download, Sprint customers should select the Web icon on their phone's main menu and then type "Slifter" in the search box, or download via a PC by visiting the Sprint Digital Lounge at www.sprint.com/digitallounge. Standard data charges also apply.
Via gpsbusinessnews