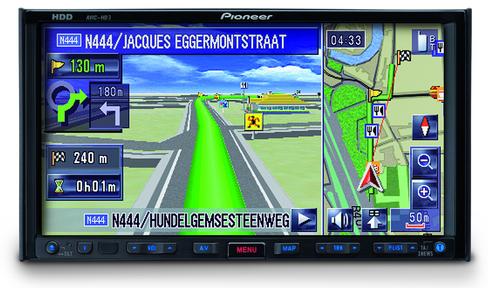 Pioneer announced the release of a new gps system called the AVIC-HD3BT navigation system. This model is slated for a European release only. This is probably the most advanced gps navigation system that can be installed in your car today. It is a complete entertainment system that comes fully equipped with blue tooth technology. Here are some of its features:
It has a large 7″ screen, so operation and navigation is easy and safe.
30GB of memory
Detailed maps of 26 European countries
6.3 Million POI's (Points of interest)
It also recognizes and stores your frequently used routes, You can also avoid traffic; the system will alert and re-route you past the accident hot spots and traffic jams
Not only does the HD3 speak to you, but you can speak to it; all the main features can be controlled by your voice.
Store up to 160 hours of music – get this it will also burn your CD's for you in about 15 min
Dual zone entertainment – means that passengers in the rear can watch a DVD on optional screens, for example, whilst you're listening to the radio and using navigation up-front.
Pioneer is an amazing system that seems to redefine car entertainment, it is going to be priced amount 1700 Euros. We also profiled another new gps system from Pioneer the AVIC-S2 which is priced less than then HD3BT.
Here is a video on the AVIC-HD1BT which is the older version of the new AVIC-HD3BT