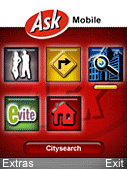 Of course there always is a catch, the service is free for 14 days. Ask Mobile lets you share your location with friends, get maps, directions, Evites, and Citysearch content. You will also be able to find restaurants, bars, and businesses nearby using the GPS system. The system features rich, smooth scrolling maps which show you in relation to your destination.
The service is currently available for several sprint phones but they are adding several other carriers and phone models. Go here for more information on "Download ask mobile".
Cost

You can try Ask Mobile for free for two weeks. This free trial version includes voice-enabled GPS navigation, Citysearch reviews, and Evite. There is no "tricked you!" charge for the application at the end of the trial – when your trial period expires, you'll be offered the opportunity to upgrade to the complete version for $9.99 per month, billed through your mobile carrier. If you don't want to buy it, that's fine. No hard feelings, nothing to return. A $2.99 per month version with GPS (but without Navigation) may be available for certain phones. Normal carrier data use charges may also apply.