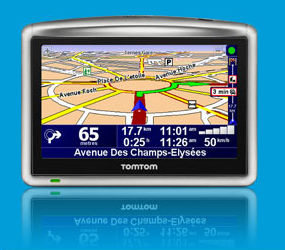 Reviewers from PocketworldGPS have done an extensive review on the new Tomtom one gps system. Although its currently in Europe, it should be making its way to the US soon. It has a big 4.3″ screen, bigger than most other gps systems in its price range. It has the following features :
Bluetooth 2.0
2D – 3D Maps
Spoken instructions (36 Languages)
Live traffic information
The mount could be better, it's too fiddly to connect the cables to the device in most vehicles I have tried it in – the accessory option looks the better choice in my opinion for a decent quality mount.

The inclusion of the flash memory is a major benefit, no more lost memory cards or memory card speed related issues – it is a shame the SD slot cannot be utilised to supplement the on-board memory though.

The fact it will fit in a shirt top pocket adds to the anti-theft benefit, you are more likely to carry this than a Go-x10 style device.
Read more about the review here.
Link to TomTom One XL Official page .