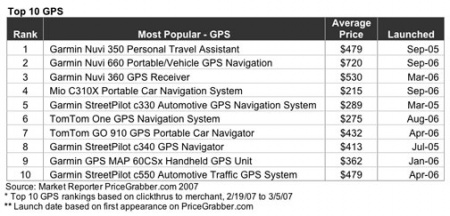 PriceGrabber.com released a study that looked at the data that it has which includes more than 24 million unique visitors, 11,000 merchants and vendors, plus more than 300 networks of sites.
They concluded that the prices of gps navigation systems have dropped by over 15 percent year-over-year in February 2007 compared to the same period last year.
Different manufactures had various average prices:
$500 average price range (Garmin)
$400 average price range (TomTom, Magellan, and Lowrance)
$200 average price range (Mio and ViaMichelin)
They concluded that the downward trending of the prices may continue.
More information on this study – Gps Maniac