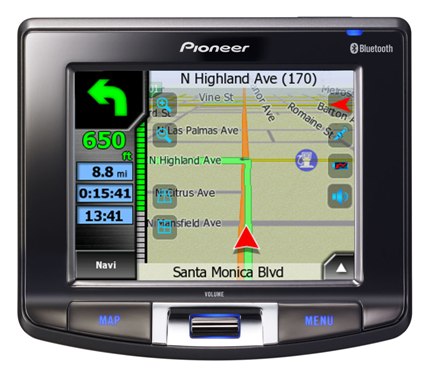 Pioneer have annouced the release of their new portable GPS Navigation System called the AVIC-S2. It offers features like an advanced route guidance system, MP3 Playback and bluetooth. You will also get about 1. million points of interest which include shopping malls, retaurants and others, all the information will be preloaded on a 1GB SD card which is included in the package.
The PioneerAVIC-S2 is a on-the-go GPS navigation system that offers advanced route guidance, a hugh 3.5″ Screen, MP3 playback, and Bluetooth compatibility. In a package equivalent to the size of a wallet, users get map coverage of the entire U.S. and Canada along with 1.7 million restaurants, shopping centers and other points of interest via the TeleAtlas database preloaded in the included 1 GB SD card. A built-in SiRF Star III GPS module and antenna make the system more accurate so drivers get where they need to go without stopping to ask for directions.
The AVIC-S2 is available for a suggested retail price of $399 beginning late April '07 but always you should be able to get it for less at stores like gpsdock.com.