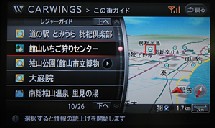 Nissan carwings (Navigation system based in Japan) annouced that they will be developing a new service that will provide tourism routes and information which will be sent to the gps system wirelessly in real time as rss feeds. In addition to local news, the driver can listen and find out about the many tourist attractions along the route, which is also displayed on the navigation system monitor.
Nissan will provide details of its CARWINGS-CASTING specification for delivering Internet information to its navigation systems, to expand the reach and encourage greater participation in the project. By using this spec to create RSS feeds, retailers and operators of tourist attractions can deliver higher-quality information through the CARWINGS Internet information channels to a wider audience.


Last month Nissan also announced a partnership with Yahoo For its Yahoo Gourmet service to provide content and user generated restaurant ranking to the CARWINGS navigation system. When looking for a restaurant the CARWINGS user has the choice whether to lists the locations by proximity or by their ranking established by Yahoo Gourmet readers within a 15 km radius.

CARWINGS is currently only available in Japan.
Excerpt from GPS Navigation News
Seems like a service that would do very well in the US