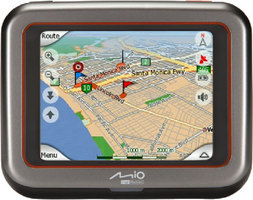 The Mio C220 is a $250 hand held portable gps navigation system that is about to be released through out the US during the next week. We have just confirmed that the units will be available at most US distributers this week and should start showing up on ecommerce sites like gpsdock.com and stores around the country. The DigiWalker C220 comes with full maps of the entire U.S. pre-loaded on an SD card, and provides turn-by-turn voice directions in English, Spanish or French (or other languages in other regions.)
** Click here to win a new Mio C220 GPS Navigation system **
Review:
Pros:
You can't beat the price for an amazing system for under $200 (MSRP $249.99)
Comes with the latest 2007 maps and has a ton of POI's (Points of Interest) installed
2D or3D Maps
Great Mapping engine
Did we mention price
POI's have phone numbers included
Small form factor – it can fit into you pocket shirt easy
Amazing fast speed on recalculating routes – We were impressed by this
Cons:
Volume could be a little louder
Does not come with a USB Cable
Not as user friendly as the Garmin Nuvi series
No text to speech
Conclusion:
If you are looking for an affordable gps system that has great features and is less than $200 then you have the winner here. Click here for the lowest price on the Mio C220 + Free Shipping. Currently at only $189.99 -$199.99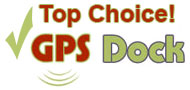 If you want more information click here for a discussion forum on the Mio C220.
Bonnie Cha of CNet also has a review on the Mio C220.
More information on other Mio gps products: