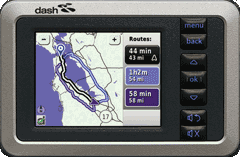 Dash have just annouced that they are looking for about 2000 drivers to test the Dash Express. The Dash Express is the only gps navigation device on the market that automatically and wirelessly updates its maps and software, so all you have to do is drive. More than 200 drivers in California have participated in earlier tests and they all have positive feedback on this express. To apply to be a Dash Express road tester click here.
What you get if chosen:
Free Gear – For the duration of the road test you'll get to experience how an Internet-connected GPS can improve the time you spend in your car.
Influence – Your input will influence the way the final Dash Express product will work.
Access – You'll communicate directly with the Dash team.
Community – As part of the Dash Driver Network, you can share your experience with other testers through exclusive Dash forums.
More information at the Dash website …